Along with helping out the Red Cross, there are other agencies that need your help. Below are some websites of agencies or support groups that have special meaning to me. If you want to know more about the ones I've listed below, click on the doll that corresponds with the agency or group.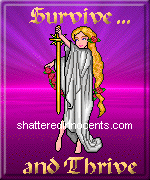 This is a page guardian doll for website creators who have suffered abuse and survived...I'm a survivor. If you need help or someone to talk to email me and also click on the doll above and it'll take you to another survivor's website. It's very supportive and informative. Below is the link where I got my page guardian. Please note that you don't have to have a doll website to use this guardian.

More coming soon!

This is VERY high on my importance meter...I did not know that I had the sickle cell trait until I was pregnant with my son. It was passed on to me by my Mother- and she didn't know she had the trait until I was an adult. Downside is, my son also has the trait but the UPSIDE is he does NOT have the disease(whew!) He just has to be very careful whom he has children with. I had heard so much about sickle cell anemia and wanted to know more even before I found out that I had the trait. Confused? Click on the dolls and they will take you to a page that will explain what Sickle Cell Anemia is. Below is a link of people who have sickle cell and wanted to share their stories. It is very enlightening to get an idea of what it is like to live with sickle cell from someone who deals with it on a daily basis.